All-Season Slip Ons
Sale Special Price
Ends in :
7 Days free exchange policy
Free delivery within 4-5 days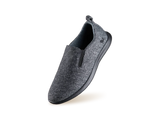 All Season Slip Ons
Very soft and comfortable. Easy to wear and value for money
Looks great and wow feeling is the first impression
Only issue is with the dust getting accumulated on the shoe and using brush to clean...worried if it's alright or will there be any peel off the shoe surface if regularly done!
Frequently asked questions :
Are Neeman's shoes washable?
How to care for the shoes on a daily basis?
Is Neeman's sizing standard/exact or should I size up/down?
Where can I wear my Neeman's?
Are Neeman's shoes unisex?
Where are Neeman's shoes made?
Can Neeman's be worn without socks?
Are Neeman's shoes sustainable?
Is there an exchange option available?
When can I expect the shoes to be delivered?
Can I buy Neeman's shoes at an offline store?

View more info CLICK HERE