Dress Loafers
Neeman's
Get this for as low as
Rs. 2,069
with these offers.
7 Days free exchange policy
Free delivery* within 4-5 days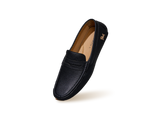 Dress loafers
I have ordered knit loafers some time back and used it around 6 months then i wanted another pair of loafers for myself then i went throught the dress loafers and orderd it i has just arrived and i wanted to appreciate NEEMAN'S for their efforts and quality they are giving in such minimal amount very impressive the quality and packaging. Keep it Up👏 better than Many high priced brands.
Frequently asked questions :
Are Neeman's shoes washable?
How to care for the shoes on a daily basis?
Is Neeman's sizing standard/exact or should I size up/down?
Where can I wear my Neeman's?
Are Neeman's shoes unisex?
Where are Neeman's shoes made?
Can Neeman's be worn without socks?
Can I wash the shoe insoles?
Are Neeman's shoes sustainable?
Is there an exchange option available?
When can I expect the shoes to be delivered?
Can I buy Neeman's shoes at an offline store?
View more info CLICK HERE