Dress Sneakers
Neeman's
Get this for as low as
Rs. 2,699
with these offers.
7 Days free exchange policy
Free delivery* within 4-5 days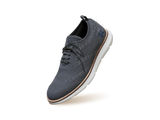 Very good product.Dress sneekers are awesome.
Excellent product
I was apprehensive about the Newman brand till I bought my first pair…Once I found those comfortable plus knowing that the shoes are made from fully recycled material..I was hooked..comfort wise & style wise the shoes are excellent..Good value for money product. If there was something I were to suggest - I would request the manufacturers to give us more styles in floaters & sandals..Keep up the good work..
Parheez Gimi
Nagpur.
Comfort at it's peak
It's a go to sneaker especially under chinos on a Friday semi work or leisure day.
Great pair for clubbing and casual dining and goes well with shorts as well
Frequently asked questions :
Are Neeman's shoes washable?
How to care for the shoes on a daily basis?
Is Neeman's sizing standard/exact or should I size up/down?
Where can I wear my Neeman's?
Are Neeman's shoes unisex?
Where are Neeman's shoes made?
Can Neeman's be worn without socks?
Can I wash the shoe insoles?
Are Neeman's shoes sustainable?
Is there an exchange option available?
When can I expect the shoes to be delivered?
Can I buy Neeman's shoes at an offline store?

View more info CLICK HERE