Sole Max Casuals
Neeman's
Get this for as low as
Rs. 1,484
with these offers.
7 Days free exchange policy
Free delivery* within 4-5 days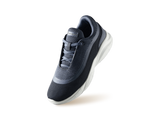 One of my best decisions this year
Sole Max casuals were my first shoes from Neeman's
Ever, and i gotta tell you it is awesome. Can't imagine getting this quality of shoes some where else, At this price point. From now on Neeman's is going to be my go to Brand. In fact I am ordering there new shoes that was just released as well
It's very perfect and most comfortable Shoes
Thanks Neemans for giving day to day updated Shoes and new models Iam feeling great walking with SoleMax. , totally light weight that is very helpful.
Good
Good fit and comfortable
First time wore neemans
Happpy
Quality is good but base is not much stable, feeling little imbalance, need to more work on stability, more testing over different foot person, work on show mechanics. Thanks
Great pair of Shoes
Very Comfortable . Lightweight.
Am a Neemans fan.
Frequently asked questions :
Are Neeman's shoes washable?
How to care for the shoes on a daily basis?
Is Neeman's sizing standard/exact or should I size up/down?
Where can I wear my Neeman's?
Are Neeman's shoes unisex?
Where are Neeman's shoes made?
Can Neeman's be worn without socks?
Can I wash the shoe insoles?
Are Neeman's shoes sustainable?
Is there an exchange option available?
When can I expect the shoes to be delivered?
Can I buy Neeman's shoes at an offline store?

View more info CLICK HERE