Signature Slides
Neeman's
Get this for as low as
Rs. 629
with these offers.
7 Days free exchange policy
Free delivery* within 4-5 days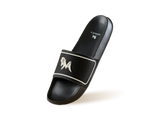 Good product. Light weight...And let see the comfort after some days😃
Before i ordered eco slides but after some time they started get torn. They are actually good slippers,very comfortable one but not durable as i expected..but i ordered signature slides now lets see how comfortable and durable they are...hoping for good😃🤞
Good product
Product is good but cost is to much High.
But other company,like puma or nike ,bata
Lower price..so product is awesome.but Let's see how long it lasts.
Frequently asked questions :
Can the slippers be washed in the washing machine?
How do I choose the right size for slippers?
Are Neeman's slippers unisex?
Are Neeman's slippers and slides waterproof?
Are Neeman's slippers suitable for outdoor use?
Are Neeman's slippers sustainable?
Where are Neeman's slippers made?
Is there an exchange option available?
When can I expect the slippers to be delivered?
Can I buy Neeman's slippers at an offline store?
View more info CLICK HERE