Everyday Basic Sneakers
7 Days free exchange policy
Free delivery within 4-5 days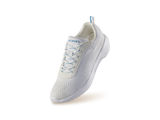 Cool and light
Though have some difficulty to find the correct size but the shoes are super lightweight and comfortable with great quality
Basic Sneakers
It strikes the perfect balance of cushion and responsiveness. This shoe is comfortable enough to carry you through all day long. The perfect balance is nearly impossible, but this comes closer than most other shoes I have tried. The Design can be better but it's a good shoe. But if comfort is your top priority go for it.
Wonderful
Very light weight and comfortable
Great shoes
The shoes is very light and it feels good to wear it, it also has amazing design which is perfect.
Frequently asked questions :
Are Neeman's shoes washable?
How to care for the shoes on a daily basis?
Is Neeman's sizing standard/exact or should I size up/down?
Where can I wear my Neeman's?
Are Neeman's shoes unisex?
Where are Neeman's shoes made?
Can Neeman's be worn without socks?
Are Neeman's shoes sustainable?
Is there an exchange option available?
When can I expect the shoes to be delivered?
Can I buy Neeman's shoes at an offline store?

View more info CLICK HERE